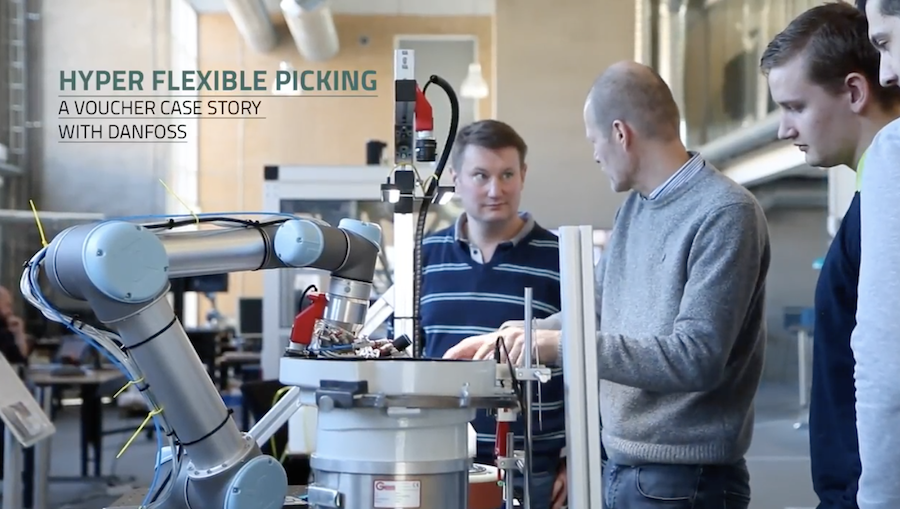 Short delivery time, high flexibility and reduced costs for handling parts before assembly. These are the main goals that Danfoss Drives wanted to achieve by creating an automated assembly line. But while the goals were clear, the way to achieve them was cloudier.
"How to do it and with what technology, we haven't decided yet. And that's what we're seeking help for", says Technology Engineer Peter Lund Andersen from Danfoss Drives.
To find out which technologies and solutions are suitable for an automated assembly line Danfoss Drive received assistance from Danish Technological Institute's Center for Robot Technology.
Danfoss Drives is namely one of the Danish companies that has received a so-called "voucher" through ROBOTT-NET, which offers a network of the leading European technological service institutes in robotics.
With the voucher, Danfoss Drive has an easy access to high technological solutions and robot experts outside of Denmark.
The challenge for Danfoss Drives has been that all their products are delivered in many different forms of packaging. They now want to pick the products automatically.
"Having more technological service institutes involved in the project means that we can draw on the core competence within each service institute and thereby combine each competence into one joint, great solution", says Peter Lund Andersen. Adding that, "we have given quite a few of our tasks to English MTC, that specializes in mechanical construction. In Odense at the Danish Technological Institute they are experts in vision technology, so they take care of that part".
You can check out Danfoss Drives' voucher page here and watch the video of the use case below.
The main purpose of ROBOTT-NET is to gather and share the latest knowledge about robot technology that can improve production in European companies.
Note: ROBOTT-NET will be at HANNOVER MESSE from April 24-27, 2018. If you are there, make sure you pass by Stand G46 in Hall 6 by the European Commission and see project results from EU-funded projects like nextgenio, ultraSURFACE, covr, fed4sae, DiFiCIL, IPP4CPPS, Smart Anything Everywhere (SAE), RADICLE, cloudSME, BEinCPPS, CloudiFacturing & Fortissimo.