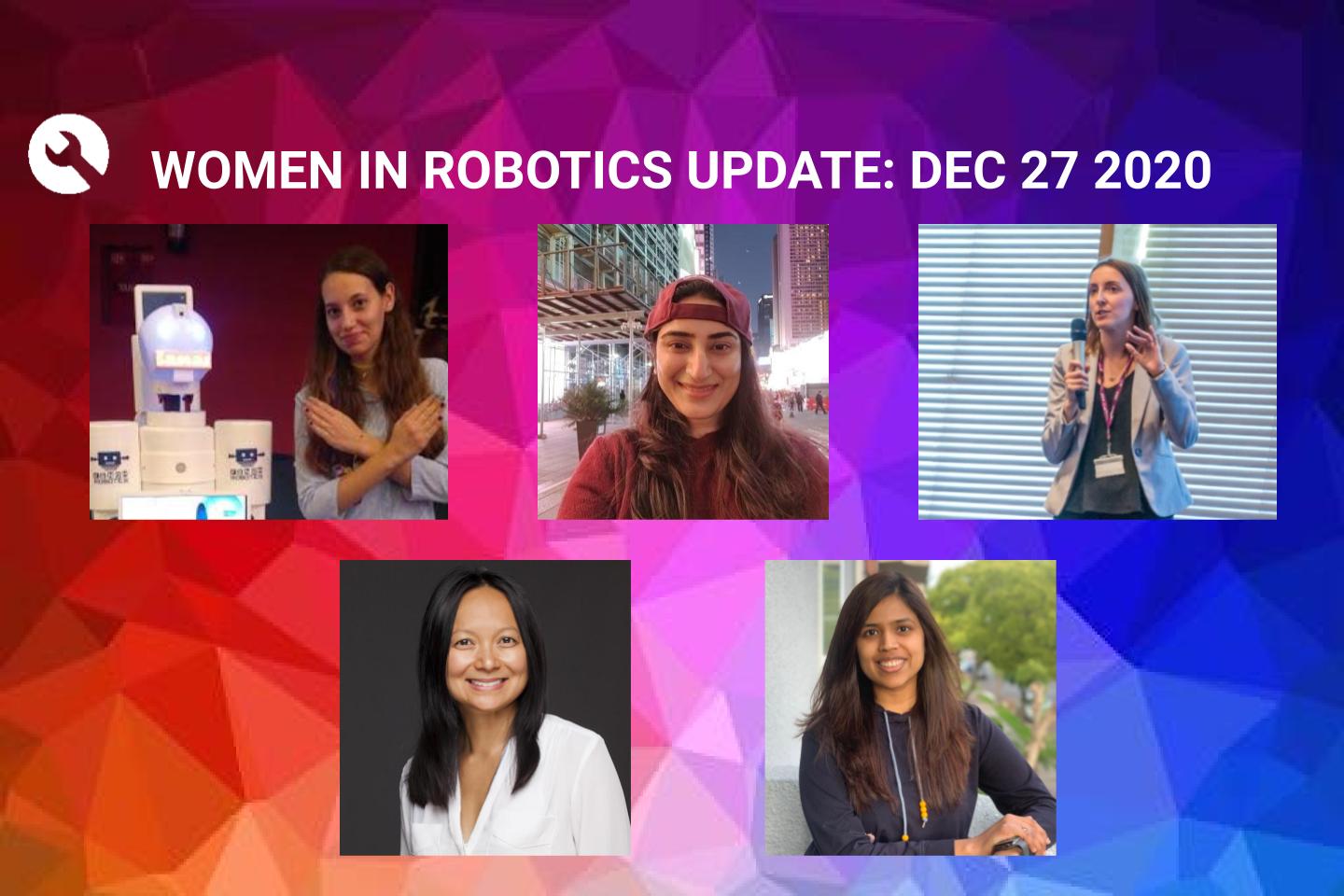 Welcome to the first of our Women in Robotics Spotlights, where we share stories from women who haven't yet been featured in our Annual Showcase but who are working on all sorts of interesting projects. We hope these stories provide inspiration to everyone to join us working in the field of robotics. And if you're a woman working in robotics, why not contribute your story too!
"Making robots communicate with humans in natural language is a fascinating challenge. There is a lot going on during interactions between robots and humans. Humans make gestures, observe or interact with visible objects in the environment, and display emotions. What motivates me is equipping social robots with the ability to interact seamlessly, by recognizing a given situation and talking about it" says Dimitra Gkatzia who specializes in Natural Language Generation for Human-Robot Interaction.

Ecem Tuglan

The Mecademi of Team Think Tank | Cofounder of Fenom Robotics

Ecem Tuglan is a The Mecademi of Team Think Tank and Cofounder of Fenom Robotics who is active Robopsychologist working on Philosophy of Artificial Intelligence, Neurophilosophy, Human-Robot interaction, Biopolitics, Robopsychology, Cognitive Sciences and Political Theory. At Fenom Robotics, she and her team builds holograms displaying humanoid robots. She is also working on projects with Dr. Ravi Margasahayam from NASA as a robopsychologist.

Tuglan says her interest in robots started during her childhood when she prefered robotic toys and electronic gadgets and this childhood obsession turned more professional when she started studying philosophy. And still, she is always intrigued by how from micro scale to macro scale, everything is changing with robotics and how cell-like robots can save us from various diseases while AI based astrobots can find new home-planets. She enjoys the width of the research in robotics and its interdisciplinary knowledge enhancing our creativity and productivity because we are able to combine anything in our mind to this field.
Tuong Anh Ens

CEO and Founder at Go West Robotics

Tuong Anh Ens is CEO and founder of Go West Robotics which is a robotics software consulting Company. Exposed to many exciting robotics projects and having very good connections in the robotics community, she decided to focus on helping robotics companies succeed. Her main objective here was to reduce hurdles that occur for so many creative and revolutionizing ideas to take shape and get implemented. Thus, at Go West Robotics, she and her team work with the world's leading robotics companies to build better automation systems and robots.

Ens enjoys the challenges with the future in robotics, ever-changing unknown and our ability to push beyond the boundaries of what was previously inconceivable. Going through the hurdles of both the personal and professional life balance herself, she strongly believes in hardwork and perseverance and believes in her team at Go West Robotics for the accomplishments and growth in robotics.
Sravanthi Kanchi

 Data  Engineer at Bayer Crop Science | The Founding Member of The Founders Vault

Sravanthi Kanchi is a data engineer at Bayer Crop Science and the founding member of the Founders Vault. She loves learning, building and researching about building robots and she is currently working to build the home cleaning robot. She enjoys the ideas coming into life in robotics. She aspires to make an impact into people's lives by building something useful for mankind as she believes in robotics contribution in transformation of healthcare , ergonomics, space, industrial sectors etc.
Kajal Gada

Content creator at Youtube

Kajal Gada is a robotics software engineer and youtuber. She has 3 years of professional experience. At her last job at Brain Corp, she helped support Brain OS – a software for autonomous mobile vehicles. Her interest in robotics was sparked by a video of drones doing flips autonomously by her mentor who continuously encouraged her to explore robotics. 

Gada started working on robotics on her own starting with creating her own robot for simple projects such as a line follower and obstacle avoidance and then further enhanced her knowledge in the area with Masters in Robotics from University of Maryland. As the way of giving back to the robotics community she creates and posts tutorials in her youtube channel for free open source software webots to create projects that are beginner friendly, and thus making it easy for anyone to get started with robotics. She has been interviewing existing women in robotics in her youtube channel as well and wants to continue it to inspire younger women and set an example of how someone looking like you started it and did it.
Dimitra Gkatzia

Associate Professor at Edinburgh Napier University

Dimitra Gkatzia is an associate professor at School of Computing at Edinburgh Napier University where she leads a UK-funded project in robotics, CiViL. CiViL aims to provide robots with human-like abilities, such as reasoning and communicating using commonsense. She is also a co-founder of the workshop series NLG4HRI, which aims to bring together researchers interested in developing NLG methods for Human-Robot Interaction. 

Gkatzia's expertise is in Natural Language Generation (NLG), i.e. teaching computers "how to talk", Data-to-text generation, AI, Machine Learning, summarization of time-series data. With her proficiency in this field she is dedicated to  making dialogue systems (such as Alexa, Siri) converse naturally, by enhancing their responses with commonsense and world knowledge. She entertains the far-ranging scope and the endless possibilities for robotic applications. "Robotics has shown promising results in assistive technology, education, and health", says Gkatzia who envisions a future where humans and robots coexist and collaborate in domestic, public and work settings and robots used to solve real-world problems.
And we encourage #womeninrobotics and women who'd like to work in robotics to join our professional network at http://womeninrobotics.org