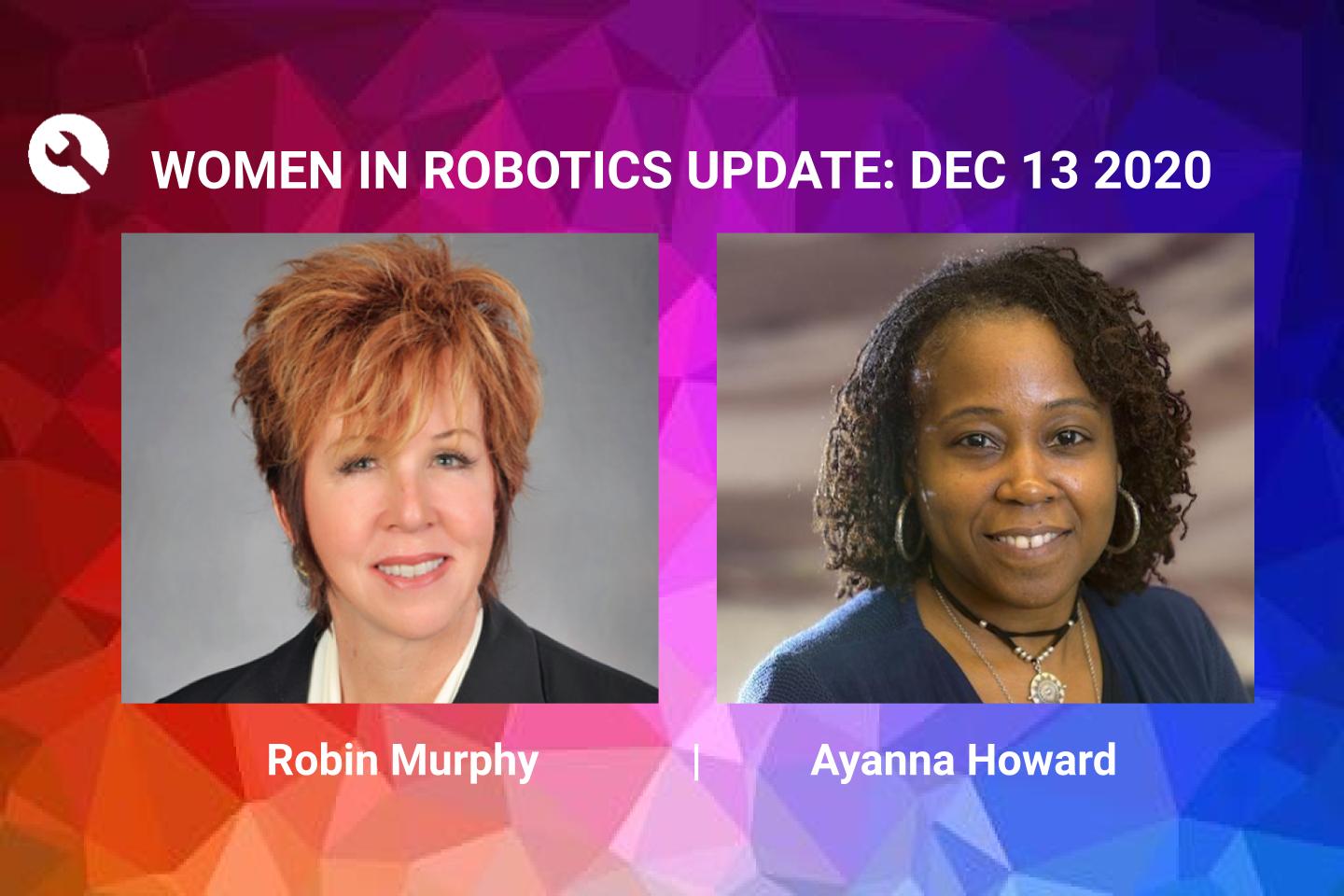 Introducing the fifth post in our new series of Women in Robotics Updates, featuring Robin Murphy and Ayanna Howard from our first "25 women in robotics you need to know about" list in 2013. These women give unstintingly of their time, creating robots that improve the quality of life, advancing research, inspiring and supporting students, and sharing their passion for engineering with the world.
Ayanna Howard says "I think as engineers we have an amazing power, where we can take people's wishes and convert them into reality"
And Robin Murphy agrees, "My job is so incredibly fulfilling, it's about the science and technology and the way it could be used for societal good, that's a big deal to me,"
Robin Murphy

Raytheon Professor at Texas A&M University | Director of Humanitarian Robotics and AI Laboratory

Robin Murphy (featured in 2013), is the Raytheon Professor of Computer Science and Engineering in Texas A & M and Director of the non-profit Humanitarian Robotics and AI Laboratory, (formerly known as Center for Robot-Assisted Search and Rescue (CRASAR). She is a distinguished Disaster Roboticist pioneering the advancement of AI and mobile robotics in unstructured and extreme environments. At CRASAR, she has been actively supplying her rescue robot since 9/11 in 2001 and has now participated in more than 30 disasters which include building collapses, earthquakes, floods, hurricanes, marine mass casualty events, nuclear accidents, tsunamis, underground mine explosions, and volcanic eruptions, in five different countries. And she has developed and taught classes in robotics for emergency response and public safety for over 1,000 members of 30 agencies from seven countries.

Murphy was named as one of the top '30 Most Innovative Women Professors Alive Today' in 2016 and the Engineering Faculty Fellow for Innovation in High-Impact Learning Experiences. She is also the recipient of the Eugene L. Lawler Award in 2014 for Humanitarian Contributions within Computer Science and Informatics. She has more than 400 publications and 17000 citations, 4 books (Introduction to AI Robotics, Disaster Robotics, and Robotics Through Science-Fiction Vols 1 and 2). In her Robotics Through Science-Fiction books, Murphy explains what real robotics and AI can and can't do alongside classic robot stories from Isaac Asimov, Brian Aldiss, Philip K. Dick and Vernor Vinge.

Murphy is also the chair of Robotics for Infectious Diseases, a non-profit organization which uses robotics and technology in over 20 countries for public health, public safety, and continuity of work and life. She has been tracking the wide range of work that robots have been pioneering in COVID19 as described in her recent article in The Conversation, "Robots are playing many roles in the coronavirus crisis – and offering lessons for future disaster".

"My job is so incredibly fulfilling, it's about the science and technology and the way it could be used for societal good, that's a big deal to me," says Murphy in CNN's the Great Big story in 2018. And Murphy's TED talk from 2015 "These robots come to the rescue after a disaster" has more than 1 million views.
Ayanna Howard

Professor and Chair of School of Interactive Computing at Georgia Tech | Director of the Human-Automation Systems Lab (HumAnS)

Ayanna Howard (featured 2014), is currently the Chair of the School of Interactive Computing in the College of Computing at the Georgia Institute of Technology and is on the Board of Directors for Autodesk. She is also the founder and director of the Human-Automation Systems Lab (HumAnS) where she and her team study and develop techniques to enhance the autonomous capabilities of intelligent systems in different areas such as Human-Robot Interaction, Assistive Robotics, Education and Robotics, Robot Learning, Human-Robot Trust, and Space and Field Robotics.

In 2021, Howard will take up the position of Dean of Engineering at The Ohio State University. Her contributions to robotics has been recognized many times since 2013! She received an A. Richard Newton Educator ABIE Award in 2014 from the Anita Borg Institute. In 2015, she was listed in The Root 100 website, as one of the most prestigious African American achievers, and recognized by Business Insider as one of the '23 most powerful women engineers in the world'. In 2016 she received the Computer Research Association's A. Nico Habermann Award and Brown Engineering Alumni Medal.

She was an AAAS-Lemelson Invention Ambassador from 2016 to 2017 which is designed to showcase the modern voices that are addressing the grand challenges facing humanity and to influence policy makers. She also received the Richard A. Tapia Achievement Award in 2018 for her contribution in bringing girls, underrepresented minorities, and people with disabilities into computing through programs related to robotics. In 2020, for the demonstrable and sustained societal impact of her work she received Georgia Tech Outstanding Achievement in Research Innovation Award 2020.

In 2020, Howard co-founded the Black in Robotics community organization, and also became the first black woman to achieve IEEE RAS Fellow status for her contributions to human-robot interaction systems. She has more than 350 papers, 4000 citations, and recently published an audiobook "Sex, Race, and Robots: How to Be Human in the Age of AI" about how the tech world's racial and sexual biases are infecting the next generation of robots and AI, with profoundly negative effects for humans of all genders and races.

"Robotics is me, It's part of my life . I think as engineers we have an amazing power, where we can take people's wishes and convert them into reality." says Howard, who also founded Zyrobotics where she has been developing assistive technologies for children with disabilities. "Robots can improve quality of life; Humans inherently trust them", says Howard in her TedX talk where she explains how humans develop emotional attachments to social or interactive robots.
Want to keep reading? There are 180 more stories on our 2013 to 2020 lists. Why not nominate someone for inclusion next year!
And we encourage #womeninrobotics and women who'd like to work in robotics to join our professional network at http://womeninrobotics.org