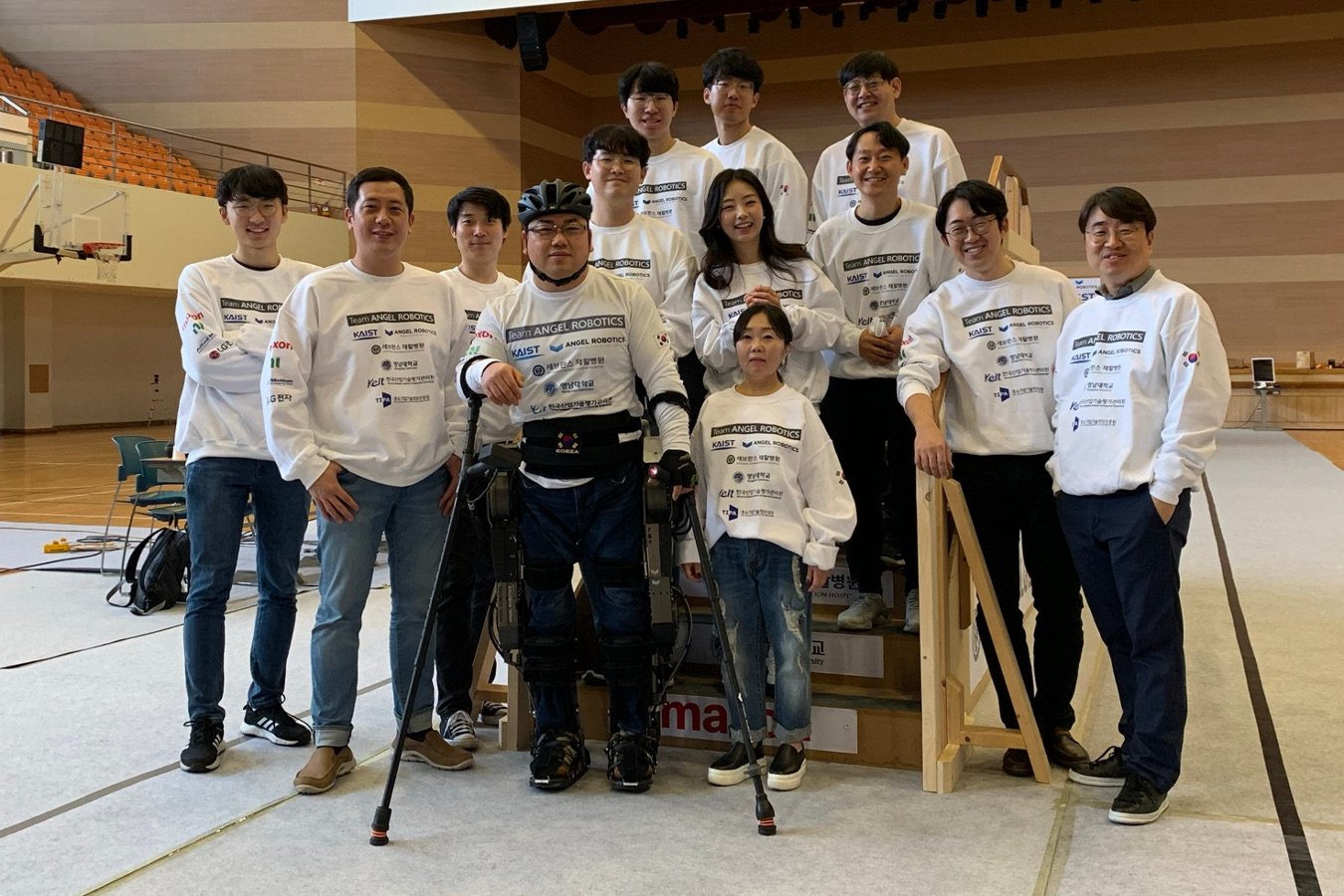 The last edition of CYBATHLON took place on 13-14 November, 2020. This competition, created by ETH Zurich and run as a non-profit project, aims to advance in the research and development of assistive technology by involving developers, people with disabilities, and the general public. We had the chance to interview the winning team of the powered exoskeleton race, Angel Robotics from South Korea.
In this race, pilots with complete thoracic or lumbar spinal cord injury from nine teams competed using an exoskeleton. This wearable, powered support enables them to walk and master other everyday tasks. Indeed, the motivation behind this race is that "the use of exoskeletons is still rare, they are currently mainly used for physiotherapy in hospitals and rehabilitation centers. Exoskeletons dramatically increase the mobility of people with paraplegia, which consequently improves their overall physical and psychological health and therefore might represent a welcome addition to a wheelchair", as the organizers of CYBATHLON state. This race involved:
(1) Sitting down & standing up from a sofa, and stacking cups while standing next to a table to test the range of motion and strength in the knee and hip joints, and stability.
(2) Slaloming around furniture without displacing it to test precision of steps and agility.
(3) Crossing uneven terrain to test precision of steps and adaptation of step lengths and widths.
(4) Climbing and descending stairs to test range of motion and strength in the knee and hip joints, and step precision.
(5) Walking across a tilted path to test the lateral range of motion in hip and foot joints, and stability.
(6) Climbing a ramp, opening and closing the door in the middle of the ramp, and descending the ramp to test the range of motion in foot, knee and hip joints, stability and maneuvering in confined spaces.

The top three teams were the company Angel Robotics (1) from South Korea with pilot Byeong-Uk Kim, TWIICE from EPFL research group REHAssist with pilot Silke Pan, and Angel Robotics (2) with pilot Lee Joo-Hyun. Remarkably, the three of them achieved the highest score – 100 points. With this impressive result, the podium was decided based on finishing time. If you can't wait to watch how tight the races were, you can enjoy them in the recorded livestream below (from time 3:10:30).
You can see the results from the rest of the teams in this discipline here, or watch the recoreded livestreams of both days on their website.
Interview to Kyoungchul Kong – Team leader of Angel Robotics team
We had the pleasure to interview Kyungchul Kong, team leader and CEO of Angel Robotics (1&2). He is also an Associate Professor of KAIST (Korea Advanced Institute of Science and Technology).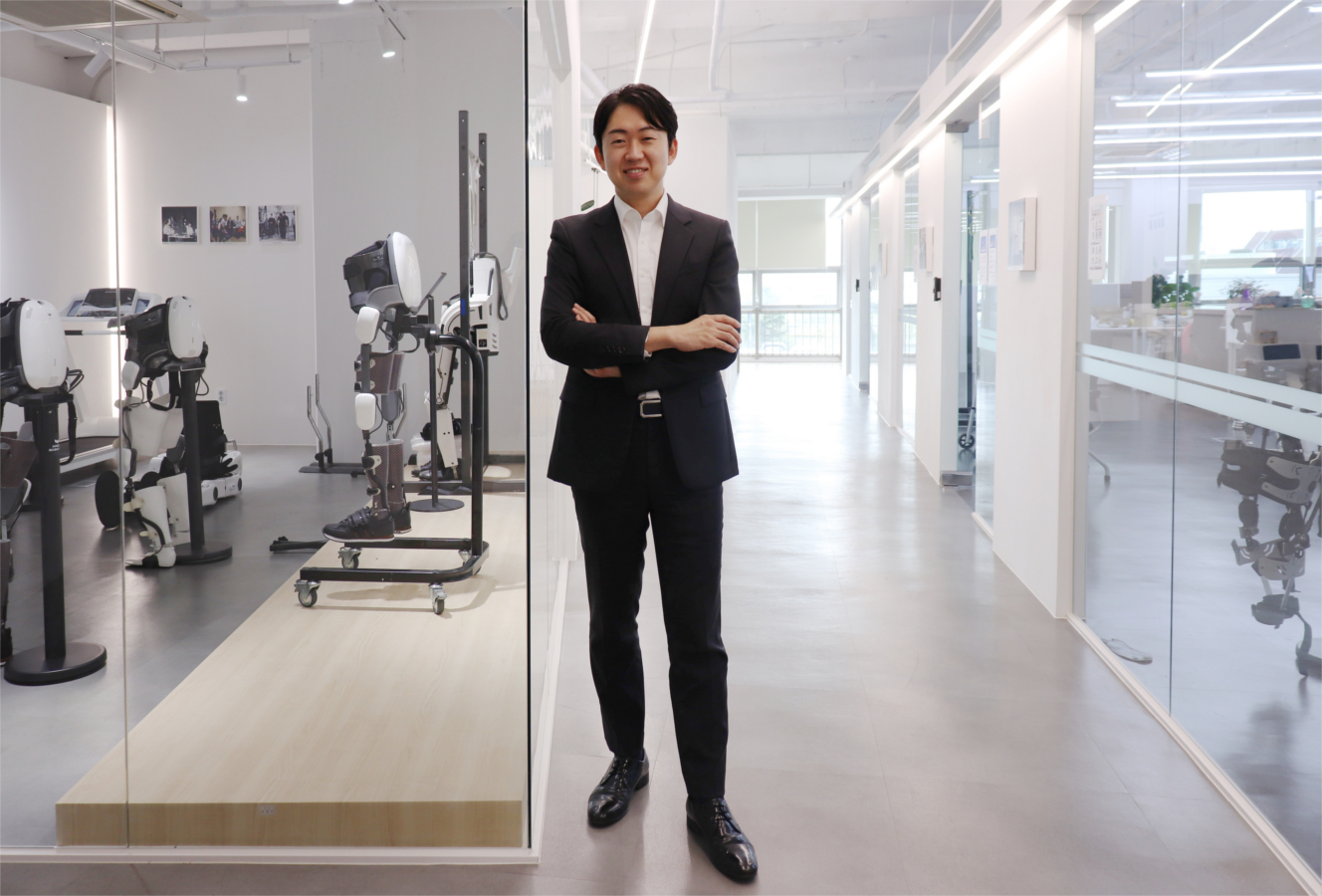 D. C. Z.: What does it mean for your team to have won in your CYBATHLON category?
K.K.: In WalkON Suit, the powered exoskeleton of Angel Robotics, there have been various dramatic technical advances. Since the first Cybathlon in 2016, the walking speed has become as fast as people without disabilities. The most important feature of WalkON Suit is its balance; as the center of mass is placed on the area of feet while standing straight, the wearer can stand without much effort for a long time. These superior functionalities of WalkON Suit could be proved by winning the Gold and Bronze medals at Cybathlon 2020.
D. C. Z.: And what does it mean for people with disabilities?
K.K.: While winning the Gold medal is glorious, winning two medals is especially meaningful. The physical conditions of the two pilots (i.e., the Gold medalist and the Bronze medalist) of Team Angel Robotics were extremely different. One was a male with very strong upper body, while the other was a female with much less muscles. Such different people could be successfully assisted by WalkON Suit, which means that the powered exoskeleton is not a technology optimized for a single user, but able to be utilized by many people with different body conditions.
D. C. Z.: What are still your challenges?
K.K.: In order to bring the WalkON Suit into the real life of people who need this technology, it has to be much improved in terms of wearability, price, and weight. The user should be able to wear the robot without anyone else's help. It should be light enough to handle while sitting on a wheelchair. The price is another critical issue considering practical conditions. With these restrictions, the functionalities and performance of the robot must not be deteriorated. These are the challenges we are much trying to get over.