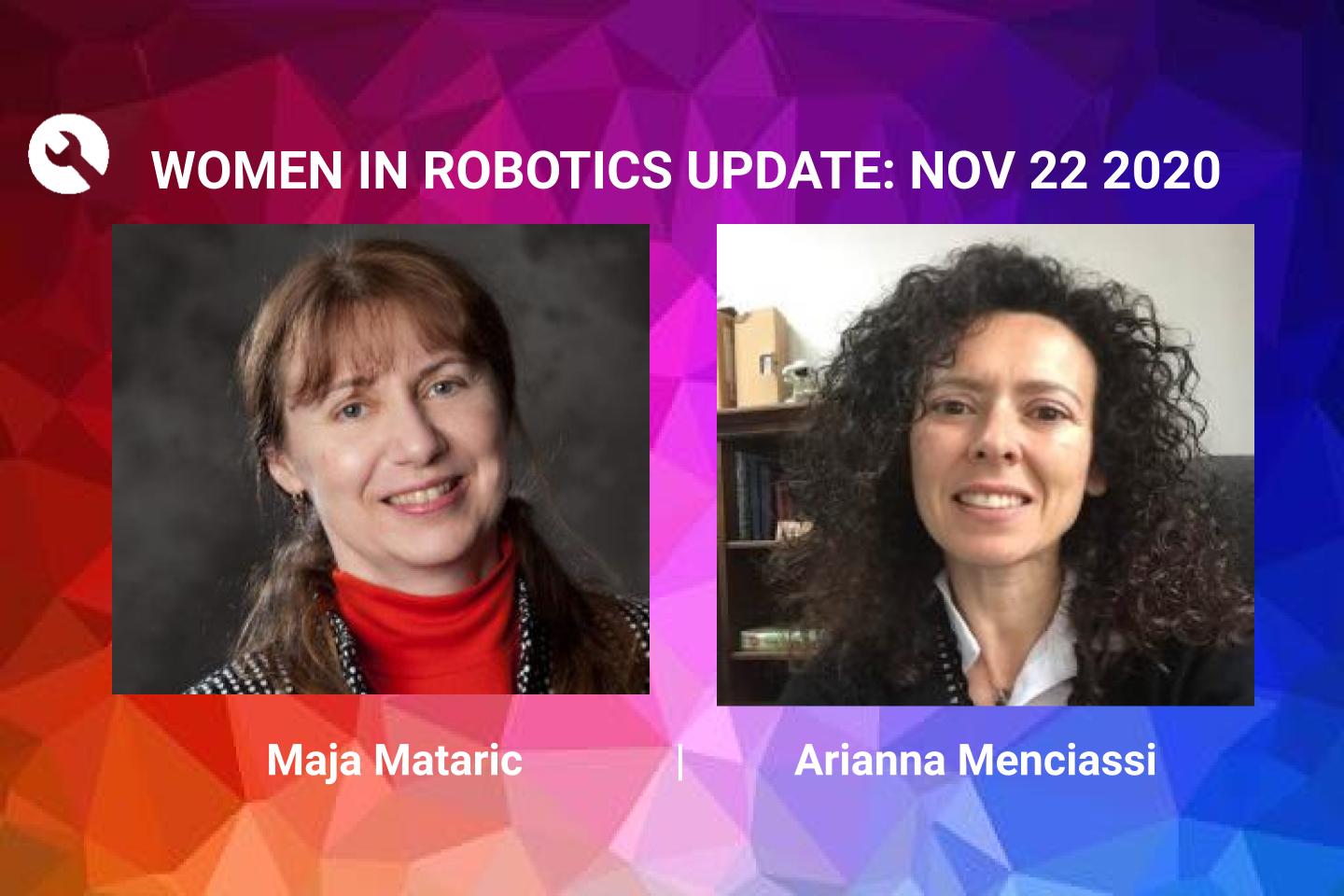 Introducing the second of our new series of Women in Robotics Updates, featuring Maja Mataric and Arianna Menciassi from our first "25 women in robotics you need to know about" list in 2013. Since we started Women in Robotics has focused on positive role models in robotics, highlighting women's career work, but we'd like to point out just how much energy that these amazing women extend to outreach, to inspiring and supporting their junior colleagues and to science management, supporting and advancing the increasingly complex machinery of research.
For example, Ariana Menciasi has held many editorial and technical committee roles, and manages both European and extra-European research projects, which involves extensive collaboration efforts. And Maja Mataric started the US Women in Robotics Research Database, which inspired similar initiatives in Canada, with the goal that you should always be able to find a female robotics researcher for interviews, positions, panels and conferences.
Maja Mataric

Interim Vice President at University of Southern California | Founder of Embodied Inc

Maja Matarić (featured 2013) is now Interim Vice President of Research at the University of Southern California (USC) and the founding director of the USC Center for Robotics and Embedded Systems. She is a pioneer of socially assistive robotics (SAR) which focuses on developing robots that provide therapies and care through social interaction, especially for special-needs populations; her Interaction's Lab has worked with children with autism, stroke patients, elderly users with Alzheimer's, and many others.

Matarić received the Distinguished Professor award at USC in 2019. She became a Fellow of the Association for the Advancement of Artificial Intelligence (AAAI) in 2017 and in 2015 she was listed in Top 100 Inspiring Women in STEM by Insight into Diversity. Matarić was also a recipient of the Anita Borg Institute Women of Vision Award in Innovation in 2013 and the Presidential Award for Excellence in Science, Mathematics, and Engineering Mentoring (PAESMEM) in 2011. She has more than 650 publications and 39000 citations and is very passionate about mentoring and empowering students and communicating the excitement of interdisciplinary research and careers in STEM to a diverse audience including K-12 students and teachers, women, and other underrepresented groups in engineering.

In 2016, Matarić founded Embodied Inc, which in 2020 launched Moxie, a socially assistive robot for child development that provides "play-based learning that is paced to weekly themes and missions with content designed to promote social, emotional, and cognitive learning".

As Liz Ohanion at KCET said, "Maja Mataric is a robotics powerhouse and, when she's not inspiring the next generation of engineers, she's working on a series of robots that could very well change the lives of the people who use them."
Arianna Menciassi

Full professor at Scuola Superiore Sant'Anna

Arianna Menciassi (featured in 2013) is now a full professor in Biomedical Engineering at Scuola Superiore Sant'Anna (SSSA). She is also a team leader of the "Surgical Robotics & Allied Technologies" Area at The BioRobotics Institute in SSSA where she has been advancing intelligent devices that permit medical or surgical procedures to be performed in a minimally invasive regime, and in an increasingly reliable, reproducible and safe way.

As Menciassi says in her interview at Autonomous Robotic Surgery :

"I am looking for solutions for giving the best care to the patients not only using scissor and knife but also using energy for example ultra sounds, focused ultra sounds, when you take a pill this is sort of autonomous treatment, this is not an autonomous robot but it is an autonomous treatment."

Menciassi has received The Women Innovation Award, for female scientists in biomedical robotics, by WomenTech in 2017. Her SupCam project was awarded as Special Electronic Design with the Compasso d'Oro, ADI Associazione per il Disegno Industriale (Golden compass, Association for Industrial Design) in 2016 for her cost-effective and minimally invasive endoscopic device. Also, the FUTURA project, a novel robotic platform for Focused Ultrasound Surgery (FUS) in clinics, which was coordinated by Menciassi was awarded the Technology Award for the Society of Medical and Innovation Technology (SMIT) in 2015.

In an already prolific career, Menciassi has more than 19000 citations, 650 publications, 7 book chapters and almost 50 patents in her name and has been constantly improving the fields of surgical and biomedical robotics. Her vision for the future is strong, "Maybe in 30 years all drugs will be more robotic and let's say autonomous because they will be able to reach some specific areas of the human body to treat cells or to treat a disease."
Want to keep reading? There are 180 more stories on our 2013 to 2020 lists. Why not nominate someone for inclusion next year!
And we encourage #womeninrobotics and women who'd like to work in robotics to join our professional network at http://womeninrobotics.org