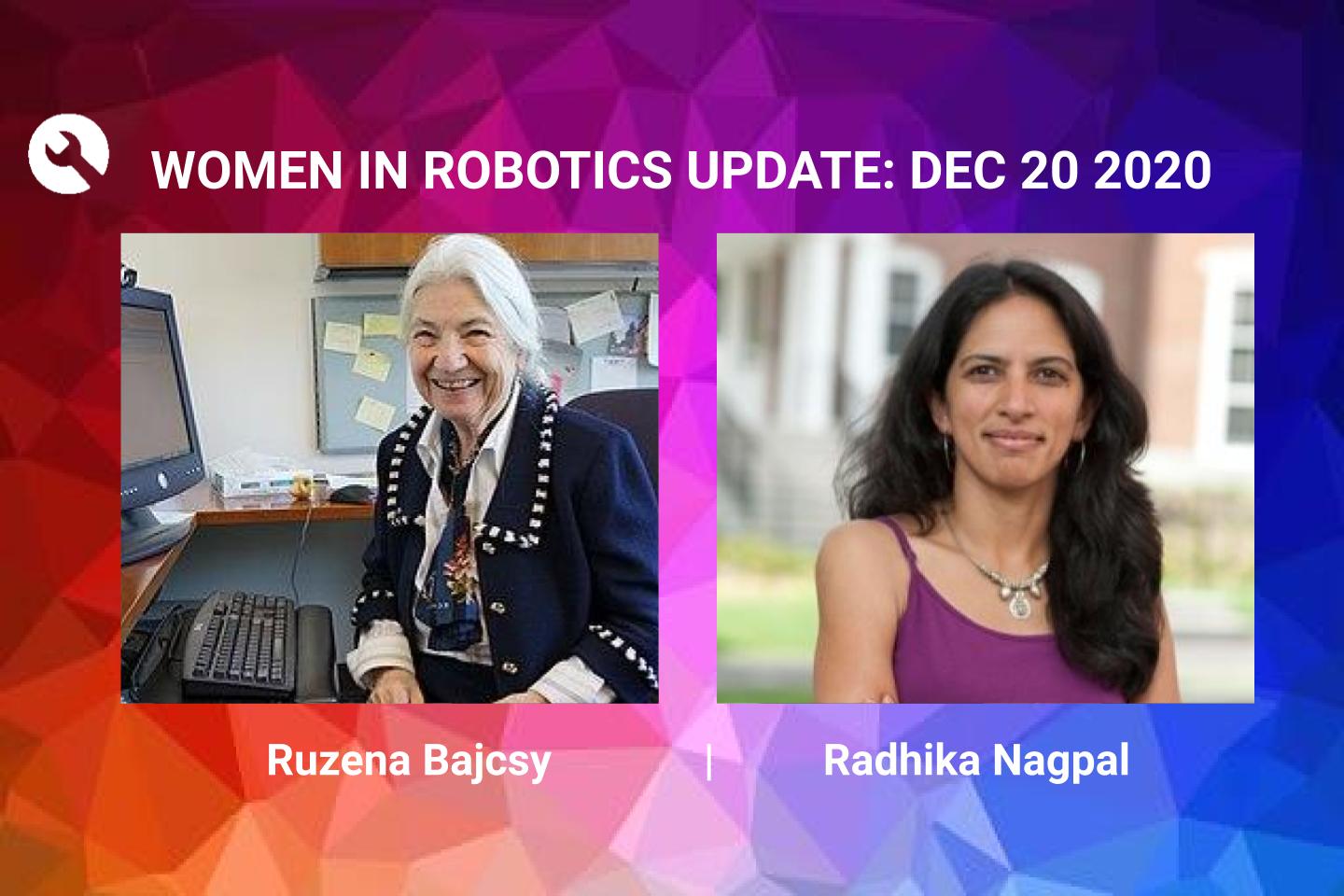 Introducing the sixth post in our new series of Women in Robotics Updates, featuring Ruzena Bajcsy and Radhika Nagpal from our first "25 women in robotics you need to know about" list in 2013 and 2014. These women have pioneered foundational research in robotics, created organizations of impact, and inspired the next generations of robotics researchers, of all ages.
"Being an engineer at heart, I really always looked at how technology can help people? That was my model with robots, and in fact, my research in the medical area as well as how can we make things not just empirical, but predictable, " says Ruzena Bajcsy, expressing the motivation that guides her in both medicine and robotics.
Ruzena Bajcsy

NEC Chair and Professor at University of California Berkeley | Founder of HART

Ruzena Bajcsy (featured 2014) is a National Executive Committee (NEC) Chair and Professor, Department of Electrical Engineering and Computer Science, College of Engineering at University of California, Berkeley. She has been a pioneer in the field since 1988 when she laid out the engineering agenda for active perception. Bajcsy works on modeling people using robotic technology and is inspired by recent animal behavioral studies, especially as they pertain to navigation, namely measuring and extracting non-invasively kinematic and dynamic parameters of the individual to assess their physical movement capabilities or limitations and their respective solutions. Professor Ruzena Bajcsy became the founder of many famous research laboratories, such as, for example, the GRASP laboratory at the University of Pennsylvania, CITRIS Institute and currently the HART (Human-Assistive Robotic Technologies) laboratory.

Bajcsy has accomplished and received many prestigious awards in her 60 years in Robotics. Since, last featured she has received the Simon Ramo Founders Award Recipient in 2016, for her seminal contributions to the fields of computer vision, robotics, and medical imaging, and technology and policy leadership in computer science education and research. She also received the 2020 NCWIT Pioneer in Tech Award which is awarded to the role models whose legacies continue to inspire generations of young women to pursue computing and make history in their own right. Throughout her career she has been at the intersection of human and machine ways of interpreting the world, with research interests that include Artificial Intelligence; Biosystems and Computational Biology; Control, Intelligent Systems, and Robotics; Human-Computer Interaction; and "Bridging Information Technology to Humanities and Social Sciences."

In her recent interview at the National Center of Women & Information Technology (NCWIT) to the women who are starting in robotics and AI, she says, " I have a few rules in my book, so to speak. First of all, when you are young, learn as much mathematics and physics as you can. It is never enough of that knowledge..Number two, you have to be realistic. What, with the current technology, can you verify? Because in engineering science it's not just writing equations, but it's also building systems where you can validate your results."
Radhika Nagpal

Fred Kavli Professor at Harvard | Cofounder of Root Robotics

Radhika Nagpal  (featured in 2013) is a Fred Kavli Professor of Computer Science at the Harvard School of Engineering and Applied Sciences. At her Self-Organizing Systems Research Group she works on Biologically-inspired Robot Collectives, including novel hardware design, decentralized collective algorithms and theory, and global-to-local swarm programming and Biological Collectives, including mathematical models and field experiments with social insects and cellular morphogenesis. Her lab's Kilobots are licensed and sold by KTeam inc and over 8000 robots exist in dozens of research labs worldwide.

Nagpal has won numerous prestigious awards since 2013. She was distinguished as the top ten scientists and engineers who mattered by Nature 10 in 2014. For her excellent empowerment and contribution to next-generation, she received the McDonald Award for Excellence in Mentoring and Advising at Harvard in 2015. She was named an AAAI fellow & Amazon Scholar in 2020.

"Science is of course itself an incredible manifestation of collective intelligence, but unlike the beautiful fish school that I study, I feel we still have a much longer evolutionary path to walk..There's this saying that I love: Who does science determines what science gets done I believe that we can choose our rules and we can engineer not just robots but we can engineer our own human collective and if we do and when we do, it will be beautiful.", says Nagpal in her Ted Talk "Harnessing the intelligence of the collective" from 2017 which has more than 1 million views.

Nagpal is also a co-founder and scientific advisor of Root Robotics which has been acquired by iRobot.  Here, she and her team designed Root, an educational robot that drives on whiteboards with magnet+wheels, senses colors, and draws under program control which can be used to teach programming across all ages. With Root, she aims to transform the home and classroom experiences with programming, by making it tangible and personal. "Every kid should learn to code in a fun way, that enhances their interests, and that inspires them to become creative technologies themselves," says Nagpal.
Want to keep reading? There are 180 more stories on our 2013 to 2020 lists. Why not nominate someone for inclusion next year!
And we encourage #womeninrobotics and women who'd like to work in robotics to join our professional network at http://womeninrobotics.org