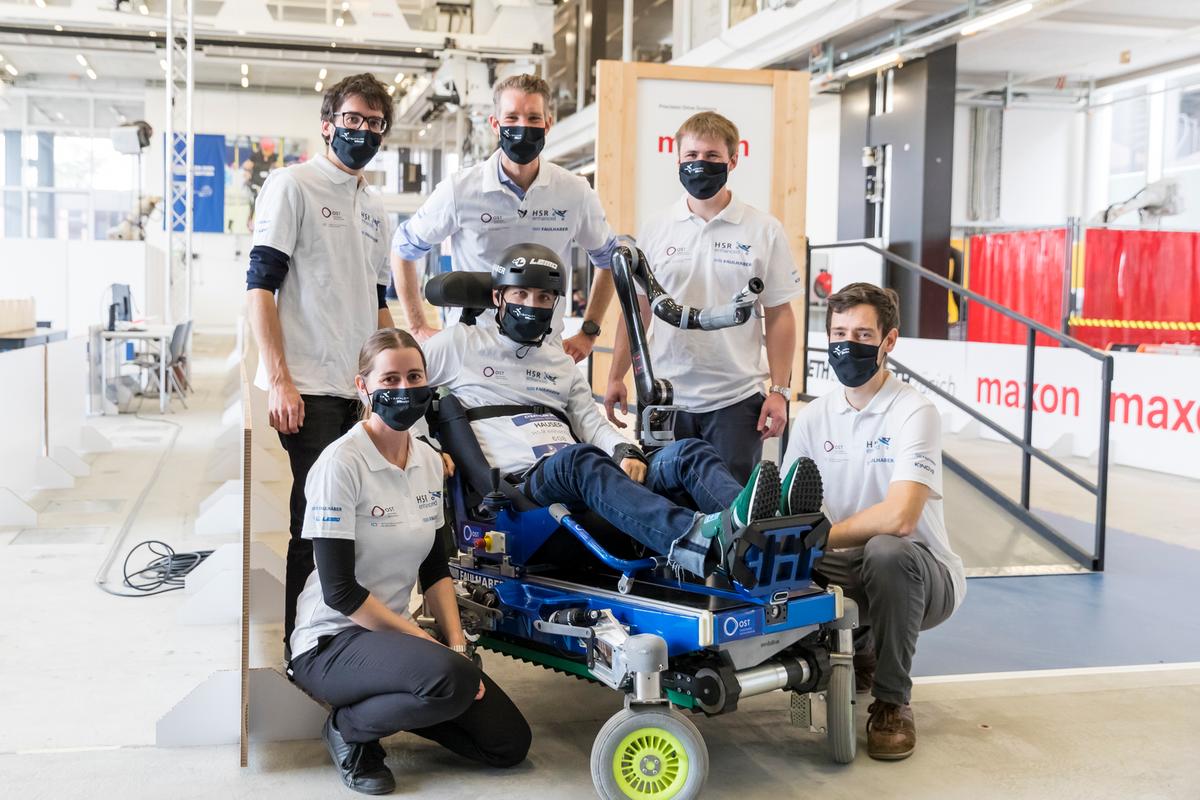 In continuation to this series of CYBATHLON 2020 winners, today we feature the victory of the HSR Enhanced team from the Eastern Switzerland University of Applied Sciences (OST). In addition, we interviewed their team leader of this year, Christian Bermes.
In this race, pilots with a severe walking disability from seven teams competed against each other in a motorized wheelchair. As the organizers of CYBATHLON describe, "motorized wheelchairs can make everyday life much easier for people with a walking disability. The important thing is that they can overcome obstacles such as ramps and yet are not too large to drive under a normal table. Motorized wheelchairs that are controlled by joystick, tongue control, touchpad or other technologies are eligible for this race and are characterized by innovative approaches to overcome obstacles such as stairs". The challenge for the pilots was to complete the following tasks:
(1) Driving up to a table until half of the thighs were covered without displacing the table to test the size and seat height of the wheelchair.
(2) Driving through furniture without displacing it to test the size of the wheelchair and precise maneuverability.
(3) Crossing uneven terrain to test the grip of the wheels, ground clearance and power.
(4) Ascending and descending stairs, and bringing the wheelchair to a standstill while descending to test the ability to climb and descend stairs in a controlled manner, and power.
(5) Driving across tilted path with different surfaces to test the drifting and tipping stability, and power.
(6) Driving a ramp up and down, opening and closing the door in the middle using an externally powered technical support (e.g. a robotic arm) to test precise maneuverability and control of technical support in a confined space.

This year, team HSR Enhanced with pilot Florian Hauser was unbeatable again, as it happened in the 2016 edition. The silver medal went to team Caterwil from Russia with pilot Iurii Larin. The third finalist was team Fortississimo from Japan with pilot Hiroshi Nojima. Here's a summary of the races of the top 4 finalists (from time 1:01:49):
You can see the results from the rest of the teams in this discipline here, or watch the recorded livestreams of both days on their website.
Interview to Christian Bermes – (ex) Team leader of HSR Enhanced team
We had the pleasure to interview Christian Bermes, team leader of the HSR Enhanced team in both 2016 and 2020 editions. After CYBATHLON 2020, he handed over the team leads, as he moved from OST to be Professor for Mobile Robotics at the University of Applied Sciences of the Grisons.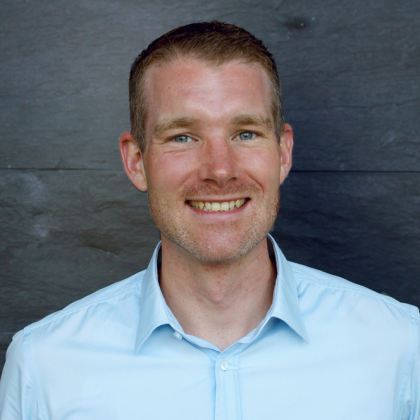 D. C. Z.: What does it mean for your team to have won in your CYBATHLON category?
C.B.: It is a huge confirmation that our first win in 2016 was not just a coïncidence, but again the result of human-centered innovation together with our pilot Florian Hauser, meticulous engineering, proper prior planning, hard training and of course a next-level pilot performance. Needless to say that there was a certain amount of luck involved, too – and hard work puts you where luck finds you.
D. C. Z.: And what does it mean for people with disabilities?
C.B.: I find it hard to answer this in general terms. Our wheelchair as it is right now will not enter a mass market, however some of its modules could, if we found partners for industrialization. I just think it's great that people with disabilities are the figureheads and heroes of CYBATHLON. They have prepared themselves in the most professional way, have unmatched control over their machines and are simply impressive.
D. C. Z.: What are still your challenges?
C.B.: Right now we enjoy the weightlessness of the win. Soon after, CYBATHLON will publish the new race obstaces for 2024 and I am 100% sure that there will be many technical challenges right away. Moreover, budget has to be secured, sponsors must be found, the team must be sworn in, plus many things more. The goal for 2024 is clear – win another title. I have full confidence in the new lead crew and their team, they will outperform everything we have seen from HSR enhanced until this day. And with Florian Hauser as pilot, we will see lightning speed on the race day.
The story of pilot Florian Hauser
The organizers released a series of videos telling the personal story of some of the competing pilots. The pilot of the HSR Enhanced team, Florian Hauser, "is a tetraplegic since he had a motorcycle accident in 2014. However, this does not prevent him from riding fast. Not on a bike anymore, but in his wheelchair," as the organizers describe. Apart from being the winner of his discipline in this 2020 edition, Florian also won CYBATHLON 2016 and the CYBATHLON wheelchair Series in Japan.